Aquatica has bet its future on AquateX™ – our next-generation solid surface composite made of hard natural minerals and resins that are cast into proprietary moulds. Our complex thin-wall moulds is what makes our products to stand out of the crowd and allow us to create lightweight, dual-wall natural stone-like bathtubs and sinks at a fraction of natural stone weight and cost and with substantially better thermal shock characteristics.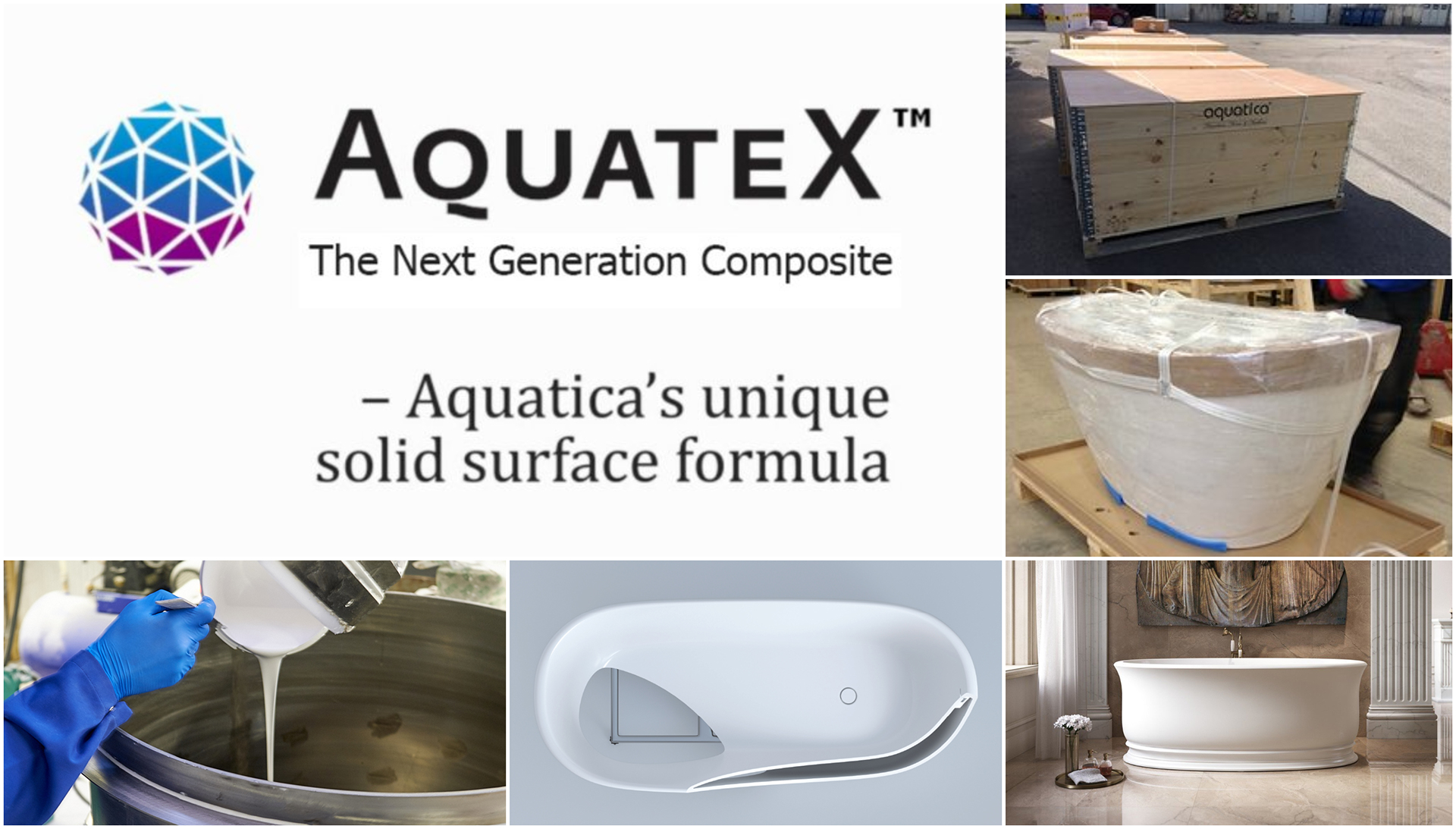 Our proprietary solid surface manufacturing process uses custom made high-tech reactors and high-quality raw materials to turn raw materials into beautifully cast high-quality parts.
Since the start of commercial production in 2018, improved manufacturing and process development has been pursued. Thanks to our continuous innovation and investment in production facilities and constant product quality enhancement, AquateX™ solid surfaces are meticulously crafted to withstand abuses of everyday use. Aquatica has taken the leading position in the high-end solid surface bathtub and washbasin manufacturing.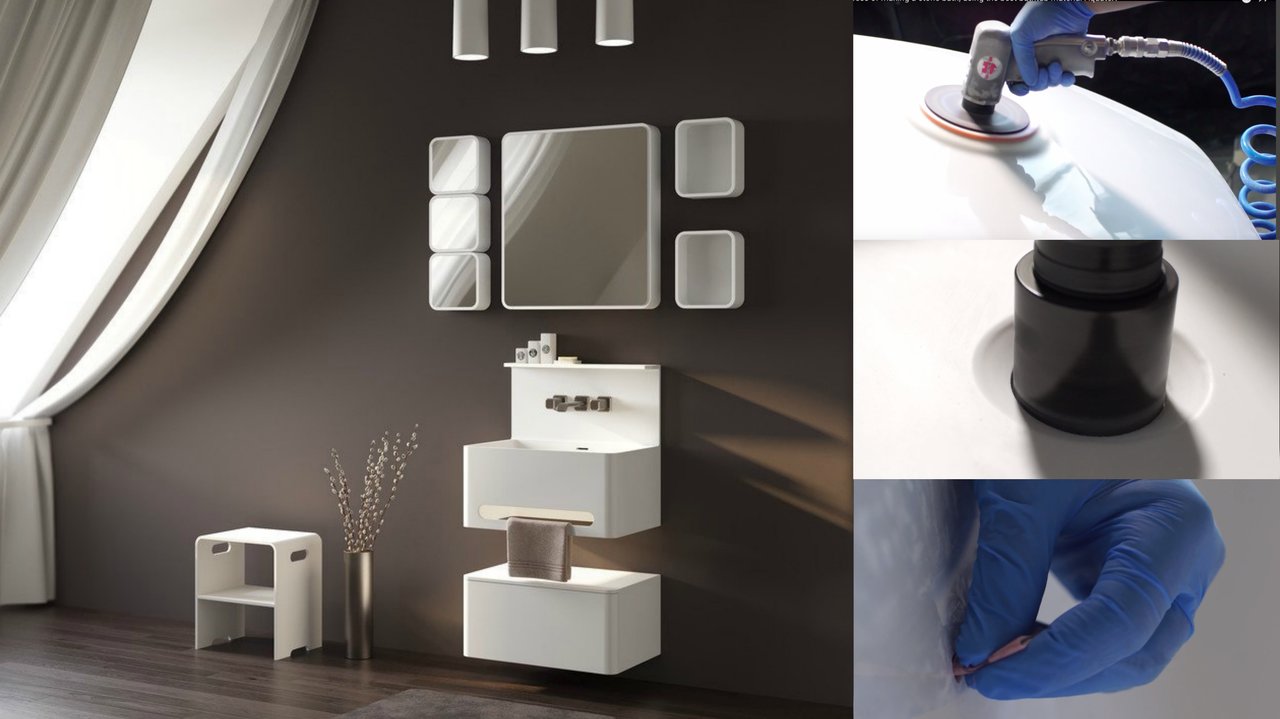 We do not outsource the manufacturing of our bathtubs, sinks, or accessories to China or any other 3rd party factory elsewhere.
Solid Surface Composite Laboratory
At Aquatica, our team follows rigorous quality control procedures throughout the entire R&D, and manufacturing process. Our quality control process begins with a rigorous inspection of all incoming raw materials – color, moisture, particle size, viscosity, and reactivity of incoming raw materials is thoroughly inspected and tested against suppliers' specifications.
The result – unequaled quality bathtubs and washbasins with surfaces that are consistent in color, texture and longevity.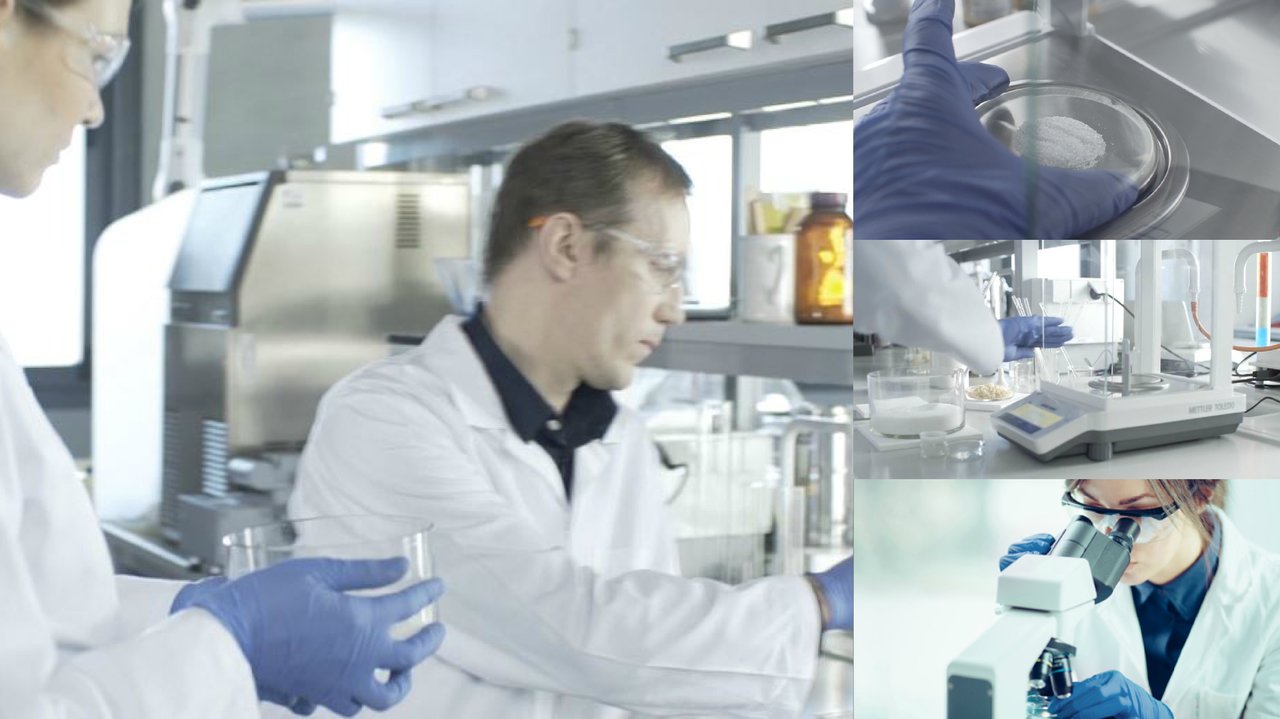 Process & Technology
Our AquateX™ solid surfaces are manufactured of a proprietary formula composed of polymer resin and filled with aluminum hydroxide and other specialized additives to give our bathtubs and sinks their signature timeless beauty and quality. The strength of AquateX™ comes from the acrylic and polyester resins, while aluminum hydroxide gives AquateX™ its chemical, stain, and fire-resistant properties.

Production
AquateX™ baths and sinks are made by binding natural mineral derivatives like aluminum hydroxide with acrylic modified resins inside our proprietary temperature controlled reactor and casting them into moulds to produce superior solid surface bathtubs and sinks. Following the casting, our parts are subject to repeated heating and cooling cycles inside our proprietary curing oven to give our washbasins and tubs improved surface hardness, blushing, and superior thermal shock resistance.

Hand Polishing & Inspection
All AquateX™ solid surface bathtubs and washbasins undergo a rigorous quality inspection for any air bubbles or foreign particle inclusions. Following the initial visual inspection, all tubs and sinks are sent for polishing and buffing, followed by another inspection, hand washing, drying, and finally packaging.

Crating
In the early days, when we were reselling tubs and basins made by 3rd party factories, we suffered frequent freight damage. To eliminate the freight-related damage issue, we studied packaging solutions implemented in other industries, and finally, we found the ultimate packaging solution while investigating jet engine parts packaging procedures.
Today, Aquatica solid surface bathtubs are packaged on solid bottom pallets that are gap-free, packaged in honeycomb carton, and hinged armored crate.