With a growing team in every corner of the world and a resulting range of products that are born out of cross-cultural collaboration, Aquatica Plumbing Group is an international sanitary ware brand with a long history defined by impeccable craft, careful attention to evolving market demands and a growing network of allies in Europe, the United States, and Canada, among many other countries.
Its multi-continent portfolio of successful projects is a testament to the attention it pays to current fabrication best-practices. Its long list of returning clients is the result of a relentless effort to inspire peace of mind among end-users and Commercial Partners alike.
Advantages of Aquatica
Award-winning materials
From an Italy-based design team to patented, proprietary materials, Aquatica is constantly able to exceed its client´s desire for products that are not only long-lasting and visually attractive, but that also softly whisper the word Luxury when touched and enjoyed. It does so, in part, through the use of its very own, superior materials:
AquateX™ : This composite material won the 2016 Golden Award from the UK-based Design Kitchen & Bathroom Magazine, in the Innovation in Materials category. AquateX™ bathtubs and washbasins are durable and feature a strong, warm, smooth surface that is pleasant to the touch and hypoallergenic.
NeroX™ : Patented and launched by Aquatica in January 2019, NeroX™ is a blend of Hematite and Boehmite minerals, which are black in their origin. It is consistently used successfully wherever there is a need for non-trivial interior solutions.
LegnoX™ : Used in the creation of bathtubs and washbasins made of natural wood walnut, oak, maple and paduk, among many other species.
DurateX™ : Aquatica´s lightweight composite with high strength, especially relevant for large tubs and spas.
Certified plumbing
The cUPC® labeling confirms product compliance with US and Canadian safety and quality standards.
Investment in new technology
Aquatica´s thorough understanding of market evolution invariably leads it to embrace technological advances. It is the sole mission of its own Research and Development department to scout, test and approve the use of products which hold the potential to elevate a user´s experience to entirely new levels of pleasure, customization, and relaxation.
3D-models to boost your creative process
Download three-dimensional models in a convenient format and incorporate it into your project visualization efforts.
Access Aquatica´s 3D Body Positioning App, set your customer´s height, limb measurements, and body type to visualize how any given tub will adjust to his or her body. Exclusive bathtub models Aquatica's cooperation with leading Italian designers and architects allows the company to retain its trendsetter status through attractive, high-quality models that are unique in their form, material or functionality.
Exclusive bathtub models
Aquatica's cooperation with leading Italian designers and architects allows the company to retain its trend-setter status through attractive, high-quality models that are unique in their form, material or functionality.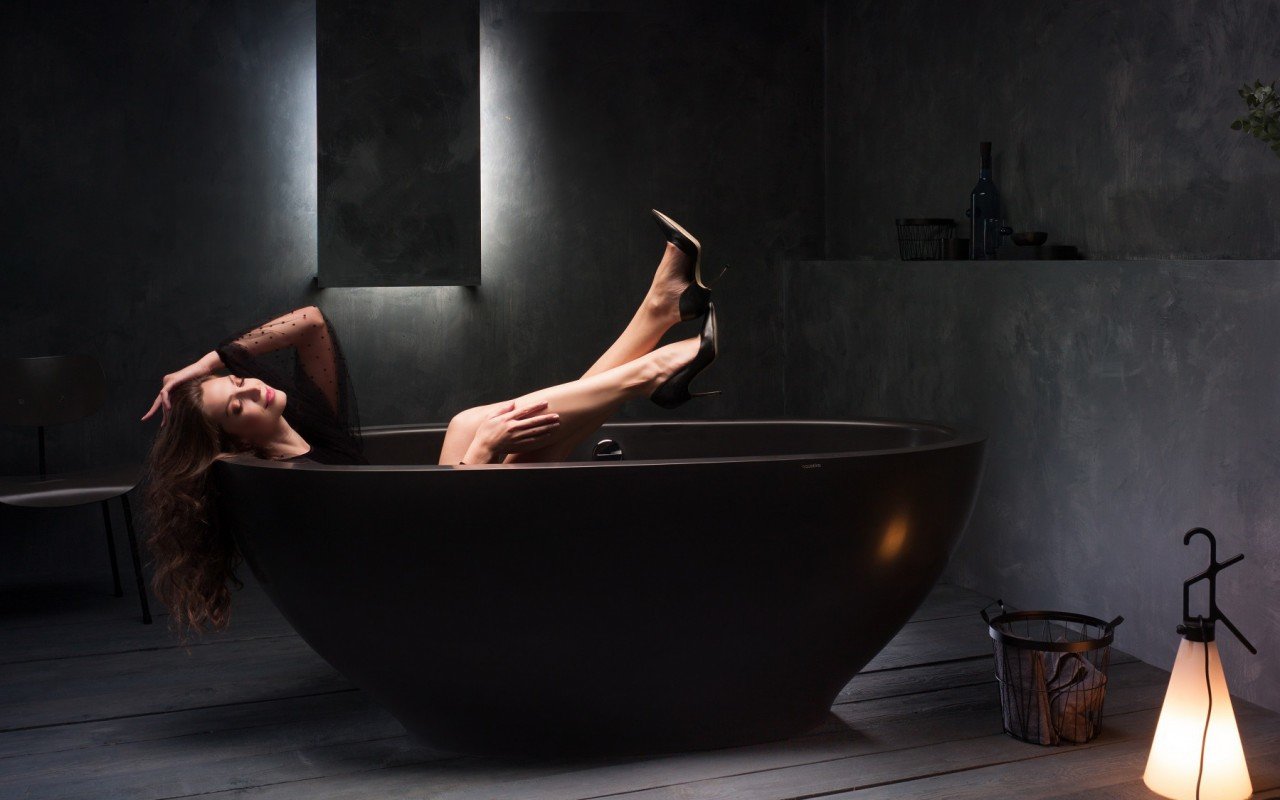 Bathtubs made of NeroX™, Aquatica´s own mineral composite material, are of special interest among many customers. Its outstanding durability and matte surface, combined with a velvety texture and its graphite black color can take any bathroom to entirely new levels of sophistication. Model pictured: Karolina Black.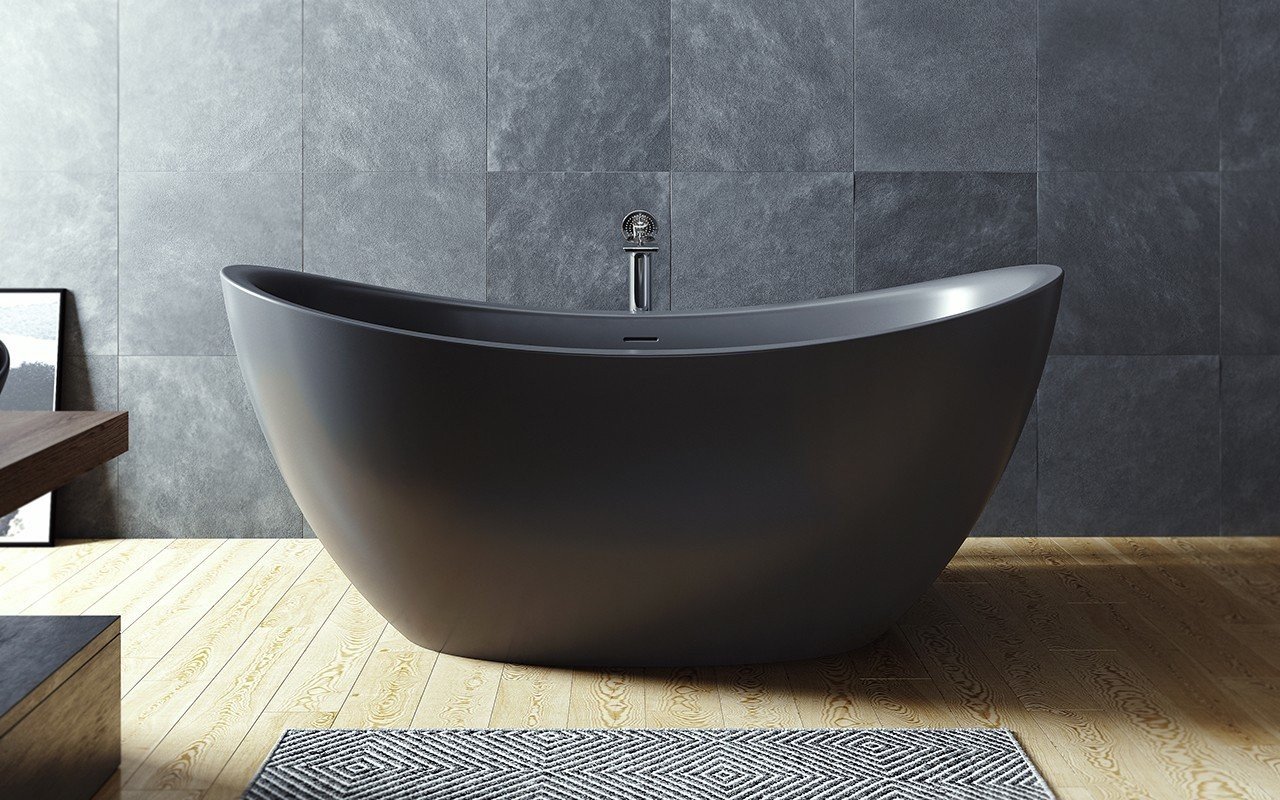 An elegant silhouette, an impressive bottom-to-overflow distance of 50 centimeters, and sculpted walls that double as headrests. The Lillian is, without doubt, one of Aquatica´s most memorable models. Excellent for people over 1.80 meters high, its vast interior can accommodate two people at once while the finesse of its exterior design visually conceals its massive dimensions.

With rounded rims and relatively low height, the Coletta is favored among people who either prefer a generally horizontal aesthetic or favor easy access to their bathtub. Chosen for its spaciousness and stylish design, this popular model is available in concrete, sandstone, graphite black, as well as in the classic white version. The latter offers the possibility of a coated decorative exterior finished in any RAL color.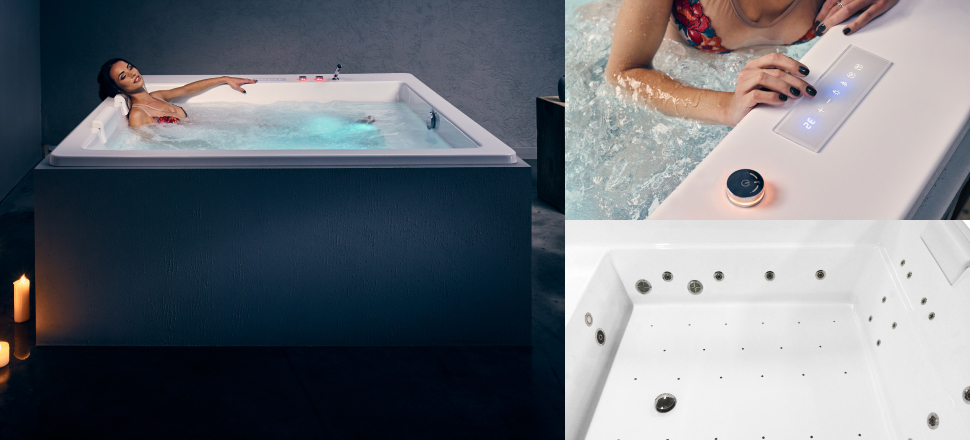 The HydroRelax Pro series consists of deep, large bathtubs with many intelligent features:
Capacitive glass control panel
Whirlpool, air massage, and chromotherapy systems
Silent pump
Pneumatic bathtub and spa elevator
Bluetooth audio system
Underwater chromotherapy lighting
Ultra-quiet Tranquility water heating and recirculation system to automatically maintain a comfortable temperature level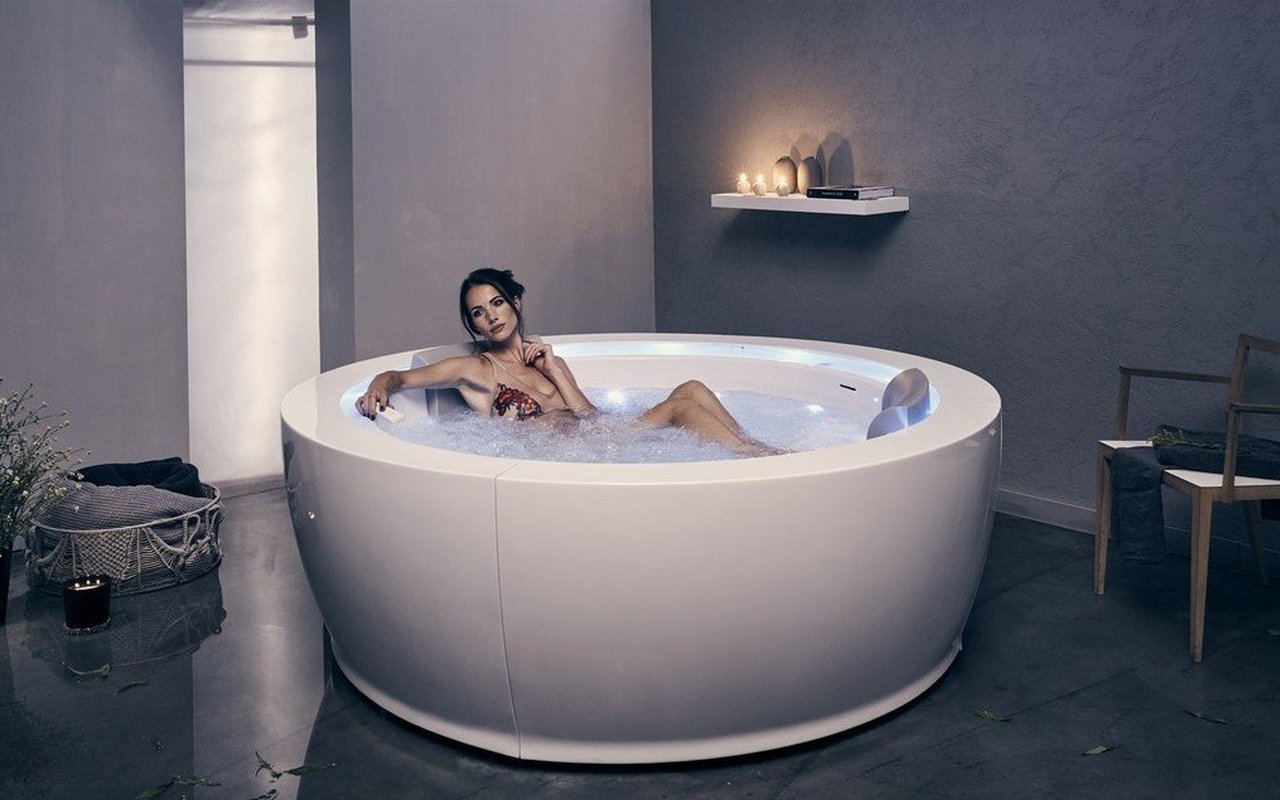 With a unique rim design featuring an infinity edge, the spacious Infinity R1 is made of highly durable, aesthetically pleasing acrylic. Its generous dimensions make it ideal for full body soaking by one or two people at once. The pre-installed Tranquility water heating system eliminates the need to add hot water over time while the Relax warm air massage system delivers a stream of caressing bubbles in your choice of pulse or wave mode.
Join Aquatica´s growing team of International Partners!
Call Aquatica today, and discover why Architects, Interior Designers, Retailers and Developers alike enjoy working with us. More importantly, discover why end-users appreciate those who specify Aquatica´s products in their homes, apartment complexes and hotels in key destinations around the world.

Contacts:
AQUATICA PLUMBING GROUP INC
+1 866 606 2782
AQUATICA PLUMBING EUROPE LTD
+44 800 046 5844